Virtual Madness Runs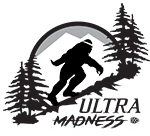 Ultra Madness will offer periodic virtual runs that can be counted towards members yearly mileage points. These runs will count on the 365 and Distance Competition challenges.

*Only the Virtual Ultra Madness Runs will count towards your points. You can run on Trails or Roads.

Criteria:
You must own a GPS device. Results with link to your gps device must be received by 11:59 PM on the last day of the month. After your Ultra Madness run is submitted it will be reviewed before points are awarded towards your challenge.

Upon completion you will be mailed a Ultra Madness Finisher Certificate.

Register for any distance from 26.3 miles to 200 miles.

Gather your running buddies and hit the dirt!


Join the MADNESS: Go long, get dirty, and pound your soles for the most EPIC challenge out there.